Meet Dr. Randy Shook
I was a senior in high school when I wrote for my term paper "I want to become a dentist because…" Little did I know what a wonderful profession I had chosen! Having the ability to create a pleasant experience for my patients, learning about them as individuals and getting to hear their stories has been a joy for the past 35 years. Without question, the best part of my day is helping and interacting with my dental friends! I learn so much from them. When I recently had a short sabbatical from dentistry, I found there was a major hole in my life! Then, I had the opportunity to join the Regis Court Dental Associates team and I was so excited to once again help my dental friends!
Education and Experience
I was born in Eau Claire WI and soon after my family moved to northern Wisconsin where I learned to enjoy the outdoor life. My nickname from my kids is "Nature Bob". I attended UW- Superior and graduated with a degree in Biology and Chemistry. I then moved to Milwaukee and attended Marquette University Dental School where I graduated in 1983. I have worked as a general dentist for the past 35 years and have owned 3 private practices. I served as an Air Force Dentist and was honored and humbled when I received the Meritorious Service Medal. I truly believe I have lived a blessed life and feel it is important to give back to my community. I volunteer at The Chippewa Valley Technical School Dental Clinic as well as the Free Clinic here in Eau Claire. I am a member of the Wisconsin Dental Association, Western Wisconsin Study Club and am a Fellow in the Academy of General Dentistry.


Outside of the Office
During my free time, I enjoy spending time with my wife Sheila (a dental hygienist with me at Regis Court Dental Associates) and our dog Shadow. We have 3 grown, married children and 1 grandchild. It keeps us busy traveling to see them as they are spread across the world!!! During the summertime I enjoy the water, kayaking and fly fishing. I do like to golf, but sometimes I find it just too darn frustrating!!! I have developed a passion for wood carving and many nights you will find me down in my wood shop. I am excited to join the wonderful team at Regis Court Dental Associates in helping them continue their goal of providing quality dental care!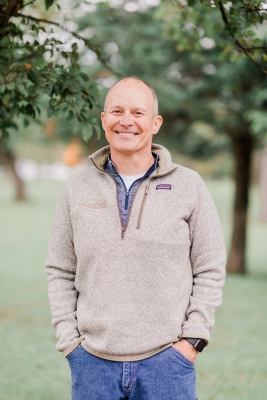 What Makes Me Smile
Click on the icons below to see what makes me smile.
Bob Seger, CCR, Queen, Eagles. Favorite song "In Your Time" by Bob Seger.
NCIS (the original), Seinfeld, Game of Thrones
Golf, wood carving, riding a motorcycle (my BMW), playing with Shadow (our black lab)
The kindness of the staff, they care about each other AND the patients.