Meet Jeff
Business Manager
My favorite part of being the business manager is having the chance to work with such a talented, personable, group of people who all share the same passion toward proper patient care and dental excellence. I also make sure the place doesn't burn down! I have truly appreciated being mentored by Dr. Theisen and have been blessed to work with Dr. Henson, Dr. Newton, Dr. Mahler and Dr. Shook. Each dentist has an amazing talent within the clinical component of dentistry but also share a commitment to thoroughly educating their patients on preventative and restorative dentistry to help the patient understand the benefits of dentistry to maintain a healthy smile year after year. Their ability to personally engage their patients is a blessing to see!
I have been married to Dr. Lisa Henson since July of 2006 and she has been such a tremendous part of my life. She is the most genuinely kind person I have ever met. She makes me a better version of myself. She fills my life with such happiness! In 2012 we were excited to introduce our fun-loving Isaiah to the world. He has such a heart for people and his joy fills our lives. In 2014 we met our spunky, full of energy, Anna to our growing family. She is fierce and full of love and makes us laugh daily. In 2016 we officially became outnumbered when we welcomed Norah to the Henson clan. She has two speeds, fast and faster. She's our highly caffeinated (without caffeine mind you) little princess and she keeps us in shape! Our family would not be complete without our canine companion, Ellie. She is the most loving golden retriever. She is the most gentle and kind dog and our family absolutely adores her. We are so unbelievable blessed!
My parents and sister still reside in St. Louis, where I grew up, and my brother lives in Virginia Beach. I have been so blessed with the family I have been given, they are all just as whacky and cheesy like me! I also have had the privilege of marrying into a wonderful family that have now allowed me to have two more brothers, two more sisters and two in-laws who let me call them Mom and Dad! I love spending time outdoors, archery, hunting, hiking, playing golf and watching St. Louis Cardinals baseball! Honestly, I just enjoy doing anything that involves me spending time with my beautiful wife and family, from coloring with my kiddos to watching movies in the evenings; I am just so blessed.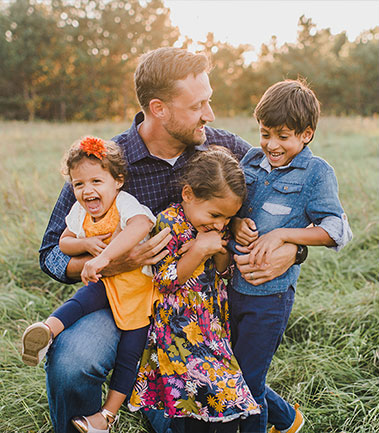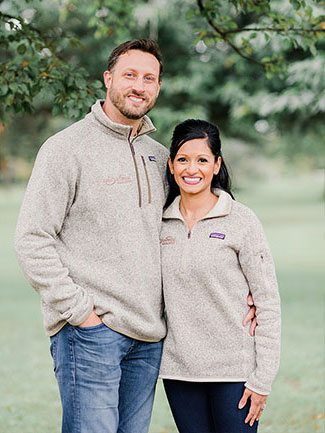 What Makes Me Smile
Click on the icons below to see what makes me smile.
Toby Mac, Andrew Peterson, Elevation Worship, and of course, 90's pop
Hunting documentaries and Smallville
Hunting, golf, and playing with the kiddos outside
Interacting with our awesome team and seeing how they positively impact patient's lives